As the double doors of the Emergency Department swing open, two paramedics loiter in the hallway, waiting to offload an elderly patient.
They're hurriedly passed by a pair of burly security guards, wearing expressions of concern.
Further down the corridor a group of nurses swarm toward an isolation room, but it's a false alarm.
There's never a dull moment in the engine room at Bendigo Health, with staff forever on the move.
And the department is getting busier and seeing sicker patients.
In 2018-19 Bendigo Health had 57,253 emergency presentations - an increase of 15 per cent over the past two years.
Of those presentations, more than half were in the most serious medical categories.
It's all part of the job for second year ED nurse Bryony Harrington.
"You never know what's coming through the doors. The fast-paced nature of the work certainly keep you on your toes" she says, before rushing off to attend a footballer who suffered a punctured lung.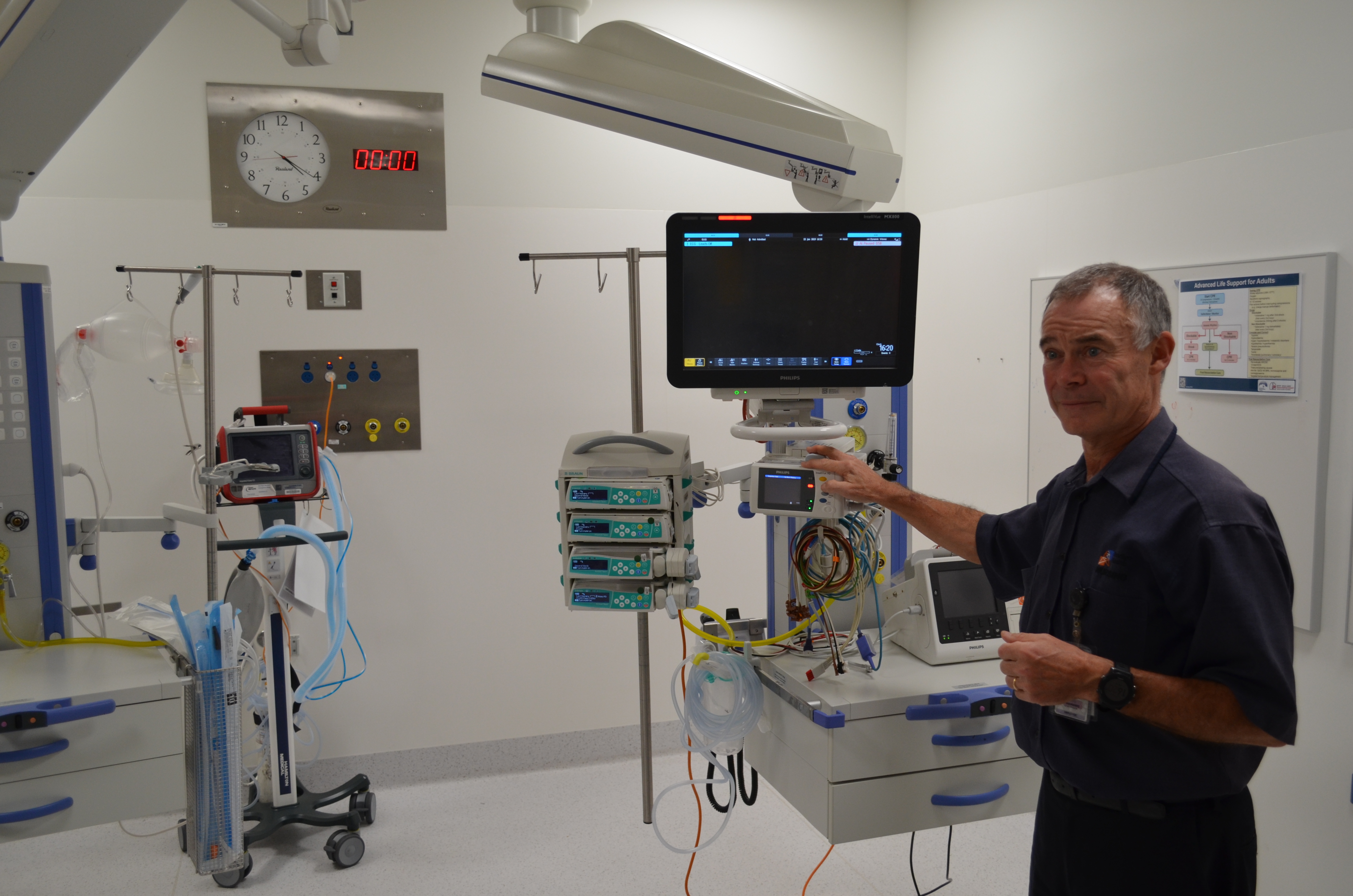 Manning one of the four resuscitation bays is Chris Creely (above).
In his 38th year of nursing, Chris has always gravitated to high acuity areas, like ICU and ED.
"People say ED is a young person's game, but I haven't found anything else I like," he said.
Associate Nurse Unit manager Steve Warren (pictured below) is charged with directing traffic, determining where patients need to go and how they can get there.
"It either suits your personality or it doesn't," he says, while scanning numerous patient flow screens.
He's also there to support staff, and "put out fires".
"It's about creating a good environment. There's 18 nursing staff (on a shift), a dozen or so doctors, more than 100 patients coming through. If I do that well, no one knows what I do," he says.
Tucked away behind the main ED floor is the Enhanced Crisis Assessment Team and the Regional Mental Health Triage Service.
"We call it the dungeon," Senior Psychiatric Nurse Clinician Laurie Basten (below) joked.
But it's serious work.
The ECAT team provide psychiatric assessments for certain patients that present to ED, often in pressurised, aggressive situations.
"The ECAT team has to decipher if a person can be treated and how to manage behavioural issues in a safe manner. Safe for the patients and safe for staff," he said.
"Psychiatry is not an exact science, it's different to a broken leg when the diagnosis is clear and what muddies the water is substance-affected people. Do they have a deep rooted mental disorder or is their behaviour driven by substance abuse?"
Anecdotally, around 300 ED presentations per month require an assessment from the ECAT team.
More broadly, the regional triage service, which stretches from Mildura to Sunbury, fields around 1500 phone calls a month, ranging from mentally unwell people to GPs seeking advice.
Deputy Director of Bendigo Health's Emergency Department, Dr Simon Smith said the department was in some ways a victim of its own success.
"This year in particular we've noticed a huge increase in patients, and workloads," he said.
"The services provided by the hospital are widening, our population is growing and we're servicing a larger area than ever before."
Dr Smith said the model of care had changed in order to see more patients more efficiently.
"We moved to an ambulatory care model, where sicker patients could be seen, and treatment started, before patients enter the main emergency department," he said.
"We've also shifted to a team nursing model, meaning in times of increased presentations and acuity, they can work together more effectively."
A strong education has also enabled doctors to feel more confident managing sicker patients, according to Dr Smith.
"Our clinical workforce and support staff do an amazing job, day in day out and we all love what we do" he said.
The department in February opened a fourth resuscitation bay in addition to a dedicated paediatric hub - a child-friendly space that helps streamline younger patients to keep them out of the main ED.