Our Values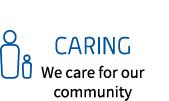 We care for each other. We are respectful and value our differences. We are considerate and show one another that we care.
We are proud of each other, the role that we play in the community and the caring tradition that we are part of.
We know that we do our best when we work collaboratively with our community. We are patient because we know that change takes dedication and time.

We love what we do. That drives us to look for the best ways to support, inform and improve the things we do. We are focused and resourceful. We find innovative and efficient solutions to challenges and opportunities.
We inspire others with our enthusiasm. We are dedicated to helping others and giving our best to any situation. We connect the different parts of our community to the information and services that they need.

We follow through on our promises with care and accuracy. We can be relied upon and trusted. We do the right thing.
We work as a team. We listen to our community. We explain clearly why we have made our decisions. We make sure that it is safe for everyone at work to speak openly and try things differently. If mistakes are made, we know that we will be supported to take responsibility and look for a solution.